New medical director brings passion for health care to new job at Community Care Clinic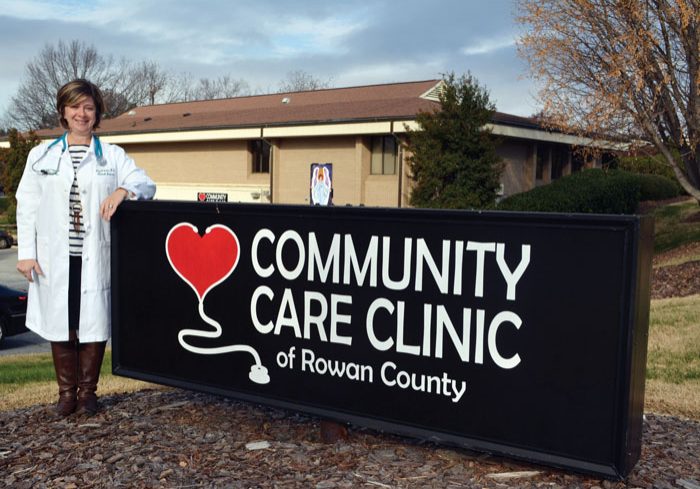 By Susan Shinn Turner
For the Salisbury Post
SALISBURY — Dr. Amy Wilson is only 5 feet tall, but she's got some big ideas.
Wilson, 43, will begin her duties Jan. 9 as the medical director of the Community Care Clinic. Dr. David Smith, its longtime medical director, retired at the end of November.
"It's a new season for us," says Krista Woolly, the clinic's executive director. "When Dr. Smith announced his retirement, our staff and board worried about his replacement, but our fears were unfounded."
Wilson comes to the clinic from Rowan Diagnostic Clinic.
"Dr. Wilson has provided outstanding care to her patients and has been an integral part of Rowan Diagnostic Clinic for more than 13 years," says Dr. Brent Siefert, one of her colleagues there. "Her patients, fellow physicians, and staff will miss her greatly. The Community Care Clinic is receiving an exceptional physician and a wonderful person."
So it's a new season for Wilson as well. She and her husband, Dr. Ben Ott, a physician with Rowan Family Physicians, have two children, Ethan, a sixth-grader, and Emma, a third-grader, both of whom are students at Salisbury Academy.
"Usually, in a two-physician family, the wife cuts back on her hours or the family gets a nanny," Wilson said. "I didn't want to have a nanny. I wanted to be a mom."
Although she'll have about the same patient load and continue to work part time, she'll no longer be on call or work weekends.
Wilson is a longtime Community Care Clinic volunteer.
"So I knew how it worked," she says. "I have been happy in my job, but Krista approached me about the position."
"You come to work here to give back to your community," Woolly said. "We feel this is mission work in many instances."
"I love what I do," Wilson said. "I love my job, and I love taking care of people. This is a positive change for a lot of different reasons. It is a mission. My passion as a doctor is trying to get health care for people. I expect to have professional and personal fulfillment, as well as the flexibility to be the mom I need to be as my children move into middle school."
Wilson said the "one-stop shop" concept of Community Care Clinic intrigues her. Patients visit the physician, receive their prescriptions, and get dental care, all under one roof.
Wilson is a native of Eden whose parents live in Winston-Salem. She is a graduate of the N.C. School of Science and Math and the University of North Carolina at Chapel Hill. She went to medical school at the University of Pittsburgh, and she and her husband completed their residencies at the University of Virginia.
"It's hard to give up the relationships I've made with my patients, but I'm excited to make some new ones," Wilson said. "There's no way I could have come into this position 15 years ago. The experience I've had with my partners at Rowan Diagnostic Clinic has given me the confidence to say that I can do this job now.
"My husband and I are committed to Salisbury. We live here, we work here, and we want to make our community better."
Without having to deal with coding and insurance issues, Wilson said she can concentrate on what she calls "relational medicine," developing a deeper relationship with the patient.
"It takes the pressure off," she said. "You're not necessarily seeing fewer patients, but the way you see them is different. If I need an hour for a patient, they're going to give me an hour. I want to see as many patients as I can, and do as good a job as possible, but there's no industry pressure."
Wilson knows she'll be seeing younger patients with chronic poblems such as high blood pressure, high cholesterol, COPD and diabetes.
"This is just an exciting way to practice medicine," she said. "There are no phone calls and no prior authorizations, and we have a pharmacy in-house. There's not someone telling you what the patient can have and can't have as far as medications, although we have some limits. I can work within this box."
"I have a supportive family and friends," Wilson said. "This is a supportive medical community, and my fellow physicians are excited for us."
With Wilson's arrival and other recent hirings, Woolly said, the clinic is now at full staff.
Away from work, Wilson enjoys spending time with her family, knitting and reading.
"I exercise because I'm supposed to," she said, chuckling. "I do encourage a healthy lifestyle. You are what you eat, and you are what you do."
Woolly said the Community Care Clinic is making the community healthier.
"We need to make Salisbury and Rowan County as healthy as we can," she said.
View the original article at The Salisbury Post.