Community Care Clinic announces Silent Angel and Volunteer of the Year Awards at 'Community Thanks' event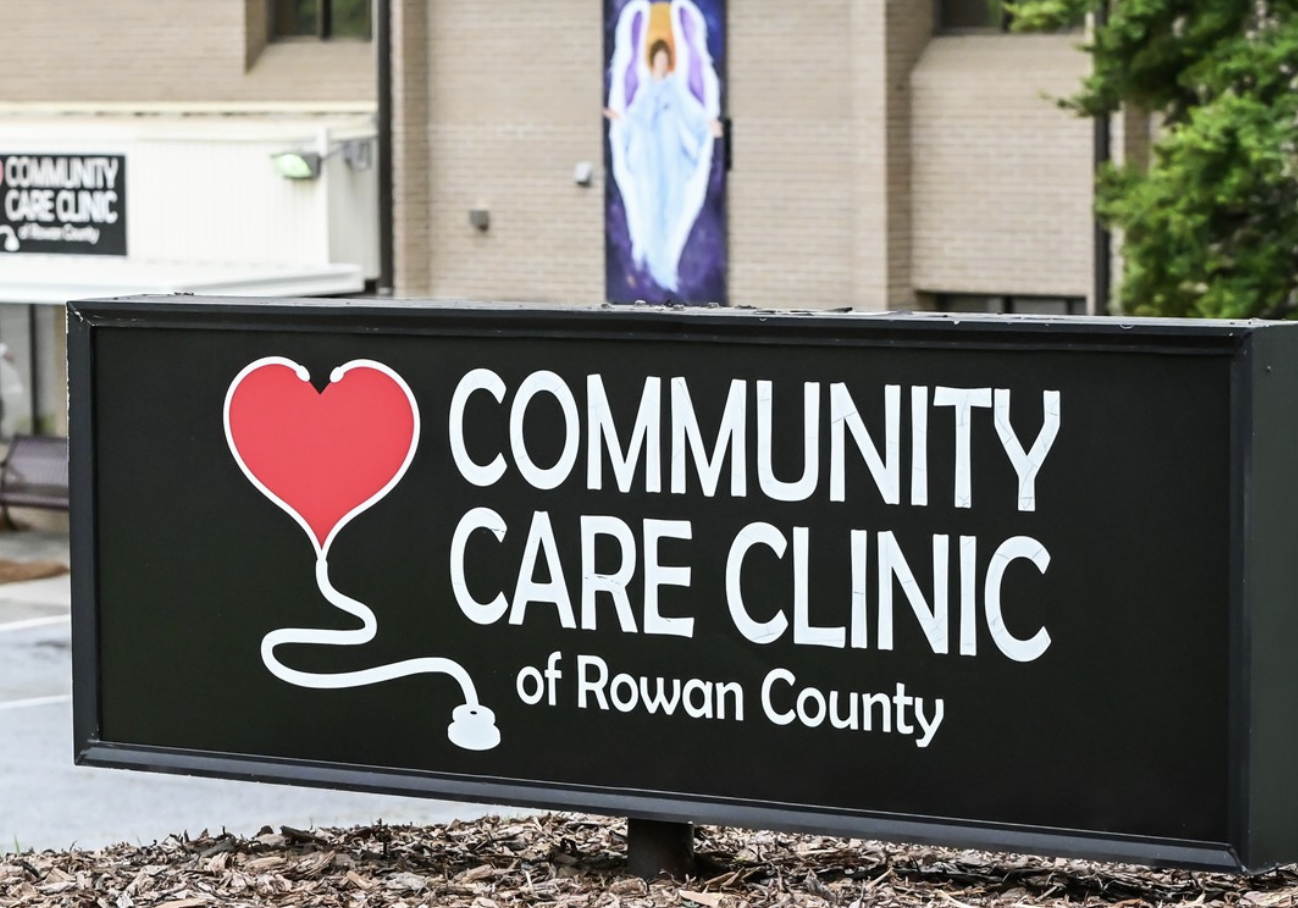 Staff report SALISBURY — The Community Care Clinic of Rowan County hosted the "Community Thanks" event on Monday, Nov. 13, at the Peeler Crystal Lounge at Catawba College. The event is held each year to thank donors, volunteers and community partners for their support, recognize the work of the clinic and to award the Volunteer of the Year and Silent Angel Awards. This year's event was a success with nearly 200 supporters in attendance.  Dr. Brett Henson, board co-chair, greeted guests and provided an overview of the clinic.
"In our 29-year history, it has been people like you that have stepped forward to make sure all Rowan County residents have access to quality and compassionate care. We want to say thank you. Your gifts make the clinic a reality and you should be proud that we are one of the top performing clinics in the state and one of the most comprehensive — offering medical, dental and pharmacy services," said Henson.   "For years, the clinic promoted cost savings to the local hospital and community, but in 2022, we were finally able to put a value on these savings. This summer, Krista Woolly, our executive director presented those savings to the Novant Rowan Regional Medical Center board of directors. In 2022 alone, the clinic saved the hospital more than $5.4 million in emergency department diversion," said Henson.  In addition, the clinic now has two fully bilingual staff members. Paola Adame works as a medical assistant and Edith Lopez is in her second year of work as a dental assistant. Both have been invaluable as the Hispanic population continues to grow and thrive in Rowan County.
During a year of much debate and eventual passage of Medicaid expansion, the clinic hosted Sen. Carl Ford and Rep. Harry Warren for tours and to discuss the future need for free clinics in North Carolina even after expansion. Shortly after, the nationally acclaimed PBS NewsHour and John Yang visited the clinic to produce a piece about North Carolina's Medicaid expansion. While Medicaid expansion will help many people, there will still be over 700,000 North Carolinians without access to care and in need of services provided by free clinics across the state.  Jay Dees and Shawn Edman, outgoing board members, were publicly thanked by the Community Care Clinic for all the hard work that they have put into the clinic over the last six years. "Jay and Shawn are engaged leaders who've worked diligently to position the clinic well for the future. They are committed to the mission of the clinic and the needs of our patients. We will miss them both so very much," said Fran Misner, board co-chair.
Dr. Amy Wilson, medical director, presented the 2023 Mike Fuller Volunteer of the Year Award to Courtney Williams and Dr. Melanie Denton. The award is named for Mike Fuller, board member and volunteer pharmacist. Courtney, a freshman at the College of Charleston, has wanted to be an ophthalmologist since she was a child. She interned at the Community Care Clinic and with Dr. Melanie Denton at Salisbury Eyecare and Eyewear. Seeing a need in her community, Courtney pitched Dr. Denton on the idea of hosting a glaucoma clinic for uninsured patients. Dr. Denton was very supportive of the idea with the understanding that Courtney would be responsible for organizing it. Since then, the duo has hosted four screenings and have provided care to nearly 70 uninsured patients. Dr. Melanie Denton also works locally with the Lion's Club to provide low-income residents with an eye exam and glasses.
"When we heard about this partnership to cover glaucoma exams for our patients, we were overjoyed. Collaborations like this are extremely important to the success of the clinic. We appreciate you both so much," said Dr. Amy Wilson.
Krista Woolly, executive director, recognized the CheckIt4Andretti Foundation as the recipient of the 2023 Fred and Alice Stanback Silent Angel Award. This award is named for Fred and Alice Stanback who model their lives in service to others and in meeting the need of the most vulnerable in our community.
"If you ask the staff and board of directors, the 2023 recipient was a 'no brainer.' Since Dr. Wilson joined our staff, she's wished for free colonoscopy screenings for high-risk patients. This expensive test is hard to obtain for our patients unless there are symptoms and even then, the wait was very long. In 2021, we heard about a brand-new nonprofit, the CheckIt4Andretti Foundation, whose mission was the prevention and early detection of colorectal cancer by providing screening colonoscopies to high-risk, low-income patients who are uninsured, and we immediately acted on it.
When cancer can be caught early, it can be treatable and even curable," said Woolly.  The CheckIt4Andretti Foundation was named for John Andretti, a famous race car driver, who was diagnosed with colon cancer at the age of 53 and passed away in 2020 following a three-year battle. With the help of his family, he used his diagnosis to bring awareness to the disease, advocating for proper screening and early detection.
"John's wife, Nancy Andretti, has been an amazing advocate for our patients, providing funding for more than 50 colonoscopies to date. She is a living testimony on how to carry on the legacy of a life well lived," said Woolly. Nancy and John's three adult children are also very involved in this effort and serve on the board of directors of the foundation. Son Jarret and Nancy were on hand to accept the award.
Jay Dees, board member, closed the evening and thanked guests for their continued support of the clinic and for helping make our community healthier for all Rowan County residents.
"The Community Care Clinic serves patients in so many ways — from medical and dental care to healthy foods, transportation, yoga, colonoscopies, glaucoma screenings and the list goes on making them the gold standard medical home," said Dees.