The Reach Church community day braves heat to carry on 20-year tradition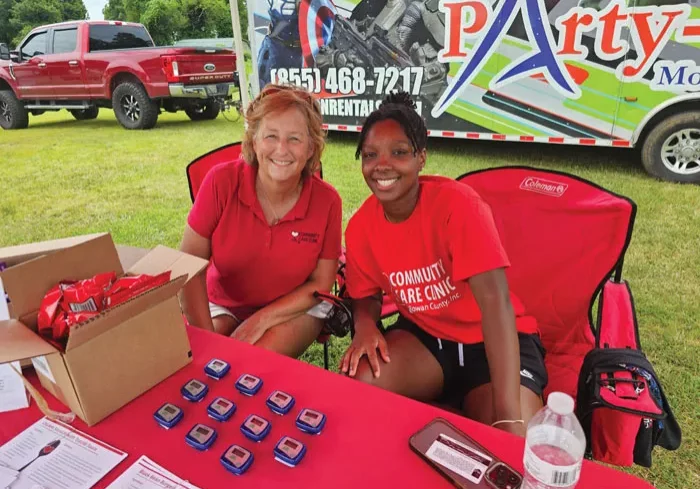 SALISBURY — The Reach Church on Horah Street will celebrate 60 years at its current location next year, and Saturday marked more than 20 years that the congregation has hosted its annual Community Day, a chance for families to gather for fun, for back to school supplies, and for information from local organizations.
Known as Mother Taylor, Alese Taylor is the surviving co-founder of the church, and she was on hand Saturday near the grill to chat with families and make sure everyone was fed.
"I love this event, and that every year there is always something new added," she said. "This is such an important event for our community and for kids going back to school. It's a last chance for us to gather for some fun before they head back, and we try to make sure they have the supplies they need."
In addition to backpacks and supplies, kids could have their hair or nails done, could spend time in a mobile game truck, fly about in a bouncy house or get cooled off in the fire hose from the Salisbury Fire Department.
Andrea Tolbert, who is starting off on her own as a hairstylist, was on hand for some intense braiding while Raegan Dennis was busy painting stylish nails.
Tranise Brown, who operates Food Truck Tuesdays with her husband and who is a member of the church, arranged for the Party-On Mobile Gaming Unit to be on hand where kids could get out of the sun and spend a little time on some video games. And while the truck did have some participants, most of the kids were outside either jumping about in the inflated bouncy house or getting doused in the hose from Engine 3.
"We believe in giving back to the community, especially the kids," said Victoria Connor of Reach Church. "Most here donate their time and resources, and we do have some new participants this year, such as Livingstone College. It's important that these children understand that college is an option for their future." Deborah Colbert and Tiffany McConeyhead from the college were on hand to give families information about the school and to hand out some Livingstone swag.
Director of the Community Care Clinic Krista Woolly was on hand, joined by dental assistant and Catawba women's basketball player Janiya Downs, to let people know what the clinic has to offer.
"A lot of people don't know we exist, or how they can qualify," said Woolly. "We are a free clinic offering medical, dental and pharmacy care for adults without insurance. We currently have about 1,500 patients, and our income limits are far higher than people know." In addition, they draw employees from the community whenever possible.
"I looked at lot of programs, jobs, but they wanted experience," said Downs. "But I just graduated from college, and will start dental school next year, so I don't have experience."
A license is not required to be a dental assistant, and working at the clinic will, said Woolly, give Downs an advantage when she does graduate from dental school because she will now have experience as well as education.
"A lot of our clients work, but don't have health insurance, for a variety of reasons," said Woolly. "The cost is still too high, the company doesn't provide it for a number of reasons, or they don't qualify for Medicaid because they make too much money. But many of them have chronic medical issues that require maintenance medications.
We are trying to help fill that gap." A representative from Atrium Cabarrus Health Breast Cancer center was also on hand to make sure people are aware of more recent guidelines suggesting women begin getting annual mammograms at the age of 40.
"Especially if there is any family history," said Helen, who was happy to explain the benefits of early detection and how it drives up survival rates and benefits recovery.
Music outside the church reached across the street to the open grassy area where entertainment and tents were set up, and where Jimmy Bickley and Brian Brown of Luv Catering where grilling hot dogs and hamburgers and feeding anyone passing who was hungry.
Artist and substitute teacher for Rowan-Salisbury schools Starneshia Harris was working on a simple design of two hearts on the cheek of Vanessa Brown, and said the most challenging design she had requested on Saturday was a unicorn.
"Most have asked for things like butterflies," she smiled, "and I do my best." A teacher by day, Harris identifies as an artist and says her work is eclectic, depending on requests or how the moment strikes her. She was "very happy to be doing this with the kids today, it's fun to do something artistic with them."
"This is just such a strong, tight community in this church and especially here on Horah Street, on the West side, " said emcee Desere, known is Miss Dez the Emcee.
"I love donating time to the church, and it has definitely been part of my salvation." Miss Dez said although she is an emcee and DJ, she has left the club scene for her own well being, and now "the church is my club." Everyone in attendance had something to offer, some way of helping in the event, and the whole day had a feeling of a family reunion. "I'd say that's about right," said Connor.