Runway show: Fashions for a Cause benefits Community Care Clinic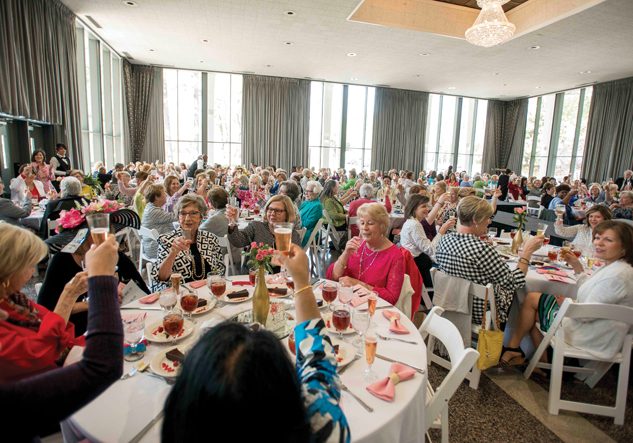 Pink and coral. Black and white. Floral prints. Lace. Long necklaces and huge sunglasses. Kimonos and "cold shoulders."
All of spring's newest trends were on display at the 20th annual Fashions for A Cause on April 10 in Catawba College's Crystal Lounge.
The perennially sold-out event raises money for the Community Care Clinic, a local non-profit agency which serves uninsured and underinsured adults in Rowan County. And because the clinic transforms every dollar raised into $8 in services, the members of the Rowan Medical Society Alliance Foundation — which sponsors the event — took just a moment to raise their glasses for a champagne toast.
It was actually sparking cider, but it was just as exciting because these hardworking women have raised $250,000 — that's $2 million in services — since 1998.
It was a day, said co-chairs Mary Goodman and Joyce Goodwin, to celebrate fashion, food, friends and fundraising. In her blessing, the Rev. Carol Williams-Gilbert asked attendees to recall the parable of the Good Samaritan.
"My neighbor was in need," she said. "I saw the lack of medical help, and I heard the cry of the needy."
Organizers also raised their glasses to Terry Kribbs and Tamara Murphy, who began the Fashions for a Cause fundraiser.
Then it was on to see the fashions of the day, as emcee David Whisenant took the runway in a GiNovia tuxedo with gold jacket and slim black pants from Winsome Hanger. The committee thanked Whisenant, WBTV's Salisbury Bureau reporter, for serving in his role for 20 years.
Right behind him was Dr. Joel Goodwin, a retired physician who always lends a hand to models as they enter and exit the runway. Goodwin, dashing as always, wore a classic tux from Winsome Hanger.
Other men taking the stage in formal wear from Winsome Hanger included Rick Parker — limping from a recent injury but still a real trouper — Bobby Miller and Bill Graham.
The show then moved from casual spring attire to the latest in prom and other special occasion dressing.
Judy Barnhardt was pretty in pink, showing a Mayan print top and pink-kiss capri jeans, both from Tribal and available at Stitchin' Post. Modeling for Cato, Autumn Ulrich added San Juan round sunglasses and cognac wedges to her outfit to complete the "boho" (bohemian) look.
Sandy Black, for 3 Jem's Boutique, introduced the kimono trend with her outfit. They're the perfect lightweight layer for spring and summer days, and come in a variety of solid or print flowing styles.
Kim Edds, for Anna Craig, showed off white skinny jeans — a spring trend with staying power over the last several years — paired with a navy cold-shoulder top and palm print kimono.
Black and white is a spring staple, and County Commissioner Judy Klusman, for Attractions on Main, showed a sporty ensemble with white cotton sweater and black and white polka dot capris.
Maxi dresses continue their hold over spring and summer, and Linda Reed, for Anne's, wore a super comfortable looking black maxi dress. She completed the look with black sandals from Charleston Shoe Company you can throw into the washing machine when needed (whoo hoo!). Gina Airheart, for 3 Jem's, wore a more conservative interpretation, with a front twist draping that added special flair.
Pulling double duty, Katelyn Storey, Community Care Clinic staff member and modeling for Caniche, showed skinny jeans topped with a beautiful, gauzy kimono by Caroline Hill.
Turning to the dressy casual portion of the program, Delores Thomas wore a gorgeous, beaded cold shoulder top (the popular design in which the shoulders are exposed) from Anne's paired with white ankle paints.
The always unflappable Whisenant said, reading from his script, "If you're unsure about the cold shoulder trend, don't be! It looks great on everyone and every age — the shoulder is the one area that doesn't wrinkle!"
The audience cracked up.
"That's what it says!" Whisenant insisted.
For the record, Thomas' shoulders looked great.
Trudy Vriesema, for Stitchin' Post, showed off a high-low lace dress from Noelle paired with Toms wedges. This shoe company gives a pair of shoes to a child in need whenever you purchase a pair — 10 million pairs donated in seven years!
Modeling for Winsome Hanger, Laura Isenhour displayed an important spring trend — lace — in two very different but elegant styles. First, she wore a navy lace top and shorts by Molly Bracken, followed by a bright orange lace dress — by the same designer — perfect for events from brunches to weddings.
Winsome Hanger also carries fashions for men, and the young men who wore Winsome Hanger selections included Jackson Murphy and Joe Steinman.
Whether you like it or not, jumpsuits are back this year, and showing two different styles were Jenna Faggart, for 3 Jem's, in a tie-dyed, strapless outfit, and Jillian Harrell in a cold-shoulder design from Anna Craig.
Allison Ogden, for Caniche, took the dressy casual look to an edgy level with leather-look black leggings by Lysse — Whisenant never could figure out how to pronounce that company — paired with a floral jacket.
Skye Mowery, for Cato, capitalized on the white dress trend by showcasing a lace dress with split sleeves. Also modeling a lace outfit — top and pants — was Patti Osbourne for Attractions on Main.
This perfect fashion show always ends with formalwear from A Perfect Dress, and the 20th anniversary year was no exception.
Watercolor prints inspired by Monet and Renoir are still rocking prom wear. Those modeling the latest runway styles included Lauren Davis, Chelsea Mungro, and Mary Kaufmann.
In her white flower-girl dress, Kennedy Goodman had the model pose down pat, stopping every few steps to jauntily place her hand on her hip.
Miriam Roy once again wore a fabulous gown from A Perfect Dress. This year, however, she was accompanied by her father, Dr. Ranjan Roy, looking quite handsome in a Winsome Hanger tux.
Of course, the littlest fashions were also well represented in darling togs from Lora Belle Baby. Those taking the runway — with varying degrees of enthusiasm — included Briggs Bost, Levi Staton, Hazel Frick, Elinn Foster, Charlotte Misner, and Clara Misner. These precious young models are always an audience favorite.
Other models included:
A Perfect Dress: Madelynn Castor, Andrea Ralston, Barbara Senter
Anna Craig Boutique: Greyson Harvey, Andie Myers
Anne's Dress Shop: Jane Hartsell, Stephanie Waller
Attractions on Main: Donna Beaver, Judy Page
Caniche: Allie Billings, Shakira Humble
Cato: Rebecca Ulrich
3 Jem's: Jenna Cook, Brookelyn Riley, Meredith Little
Winsome Hanger: Destiny Lutz
By Susan Shinn Turner
See The Salisbury Post article.