Teamwork links Community Care Clinic award winners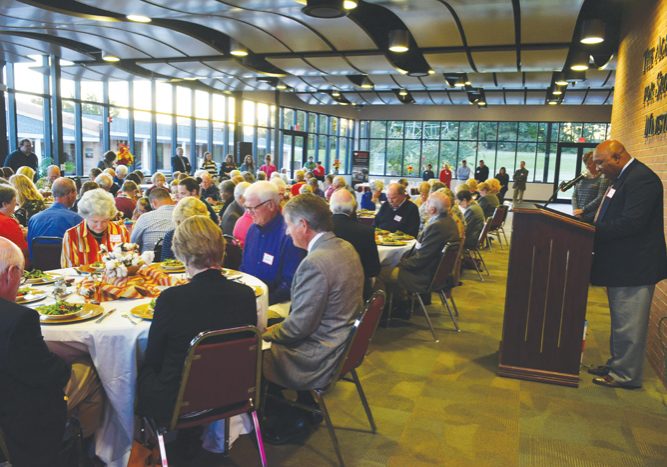 SALISBURY — Debbie Hill was so excited that Dr. David Mayberry was being named Volunteer of the Year for Community Care Clinic on Monday evening that she totally forgot about the other award.
Hill, the clinic's dental coordinator, has worked with Mayberry, a local dentist, at a dozen Missions of Mercy dental clinics statewide, including three held in Salisbury.
They also work together when Mayberry volunteers at the clinic once a month, as he has for years.
So the look on Hill's face was priceless when her name was called as the Silent Angel Award winner. The award is named for Fred and Alice Stanback, longtime clinic benefactors who were on hand for the sixth annual awards presentation, this year held at Hood Theological Seminary.
The ceremony drew some 160 supporters, its biggest attendance yet.
Community Care Clinic provides health care, dental care and prescriptions to uninsured and underinsured adults in Rowan County.
Dr. Amy Wilson, who joined the clinic in January as medical director, said she loves practicing relational medicine. But the clinic does so much more than merely dispensing medications, she said. It supports a patient's whole health, she said, through smoking cessation classes and its "Exercise Is Medicine" initiative.
Monday's ceremony marked the first time the Silent Angel Award has been given to a staff member, said Krista Woolly, executive director.
"Debbie's nomination spelled out all the things she does here and in her East Rowan community — from setting up health clinics at her congregation, St. Peter's Lutheran, to personally delivering Food for Thought bags to homes, to the garden ministry at St. Peter's," Woolly said. "With cold weather coming, she has coats in our lobby for people to take. She is our true Silent Angel."
"You can't help but notice the light shine in her life," said her pastor, the Rev. Sean Barrett, in a video announcing the award.
Hill said she was focused on surprising Mayberry.
"I never thought about this," she said. "Thank you. I love you all."
"It was a shock," Hill said afterward, "but it was great. I love working at the clinic and at my church."
Fellow dentist Dr. Brandon Aron recognized Mayberry for his caring, friendship and longtime loyalty to the clinic.
"He is a tremendous asset to the clinic," Aron said in a video naming Mayberry as Volunteer of the Year.
The award is named for Mike Fuller, a pharmacist and longtime board member.
In accepting the award, Mayberry deflected praise to others.
"So many times, I get way too much credit," he said, adding that he couldn't figure out why Dr. Bill Blaylock, who directs Missions of Mercy on a statewide level, was in attendance.
Mayberry complimented Woolly for her hard work as local coordinator for the most recent clinic in September 2017.
"The awards this year just flowed together so seamlessly," Woolly said afterward. "Debbie and David are wonderful individuals, but when they work together, they're a great team."
Community Care Clinic is at 315 Mocksville Ave. For more information, call 704-636-4523 or visit www.communitycareofrowan.org.
View original article at The Salisbury Post.