Saturday ceremony will close out '49 Days of Gratitude'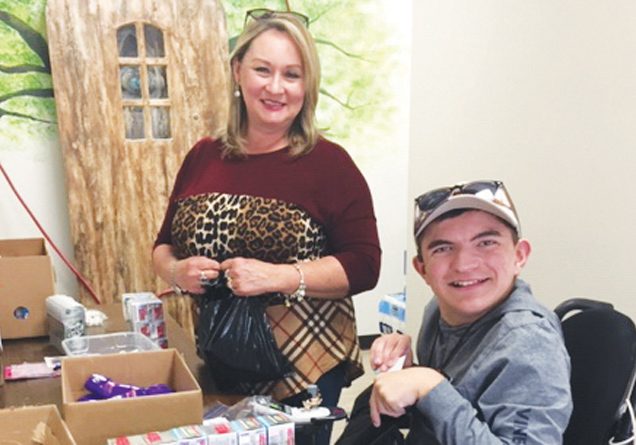 SPENCER — A closing ceremony filled with patriotic music and tributes to military veterans will mark the end of the countywide "49 Days of Gratitude."
The closing will be at 11 a.m. Saturday at North Rowan High School.
Launched Feb. 9 with a parade and opening ceremony at the N.C. Transportation Museum in Spencer, 49 Days of Gratitude took its inspiration from the Merci Train and North Carolina's 40&8 boxcar from that "Gratitude Train," a gift from the French people in 1949.
The French sent their 49-car train of gifts to the United States as their way of saying thanks for the Friendship Train of relief goods people of the United States sent to Europe in 1947.
Organizers for this first-ever 49 Days of Gratitude used that gesture from 70 years ago as a springboard for a multitude of programs and activities linked to what was billed as a "Celebration of Thanks."
As part of 49 Days, Merci Train donation boxes were distributed throughout Rowan County to collect supplies (not monetary contributions) requested by nonprofit groups. Businesses, organizations and churches sponsored the boxes, and those efforts will be among the things celebrated Saturday.
Some organizations went the extra mile for the 49 Days. Although Community Care Clinic is a recipient of a box sponsored by First Presbyterian Church, the clinic's staff, volunteers and board members wanted to show their own appreciation for the community.
They have packed more than 200 personal care bags (supplies coming from Ameri Cares) for groups such as Adventure Rowan, North Rowan High, Knox Middle School, Isenberg Elementary, Prevent Child Abuse Rowan, Rowan Helping Ministries and the women's shelter.
Krista Woolly, executive director of the Community Care Clinic, said so many people are always doing something for her organization that "it is also so good to be able to give back."
Sherry Mason Brown, Kimberly Lentz and the N.C. Transportation Museum served as the primary organizers for 49 Days. North Carolina's Merci Train boxcar, which contained hundreds of personal gifts from French citizens back in 1949, is on permanent display at the museum.
The museum also has had an exhibit of some of the original artifacts contained in the boxcar that were on loan from the N.C. Museum of History.
Brown said that in addition to music from the Piedmont Prime Time Community Band, eight drama students from North Rowan High will give veteran soliloquies during Saturday's closing program.
"The students have been interviewing Rowan County veterans from World War II and other wars," Brown said. "They will share those stories in a dramatic reading."
There also will be portraits of veterans on display by North Rowan High art students, under the direction of Lori Gray and Leigh Ann Alexander.
A moment of remembrance is set aside for World War II veteran Clyde Miller, who was supposed to be the grand marshal of the opening day's parade Feb. 9. Well-known and beloved in the North Rowan community, Miller, 92, was stricken and died at the parade scene as he prepared to ride in a vintage car.
As part of the 49 Days celebration, Rowan County middle school students have been participating in The Butterfly Project, which includes a butterfly art project and curriculum telling the story of children in the Holocaust.
Most middle school students painted a ceramic butterfly as part of the project, and some of those will be on display Saturday.
"The butterflies will be used to create a permanent art installation in Rowan County honoring children whose lives were lost in the Holocaust," Brown said. "The installation will include a copy of The Butterfly Project's memorial plaque to share the message of remembrance and hope."
Trinity Oaks is the primary sponsor for Saturday's ceremony, with the Transportation Museum, Piedmont Prime Time Community Band and North Rowan High as partnering sponsors.
Piedmont Prime Time Community Band is a performance-oriented, nonprofit organization of volunteer musicians who play in Cabarrus, Iredell and Rowan counties, along with the North Mecklenburg and Lake Norman regions.
Karl Hales will serve as Saturday's emcee.
View this article at The Salisbury Post.