'Bonnets, Baskets and Brunch'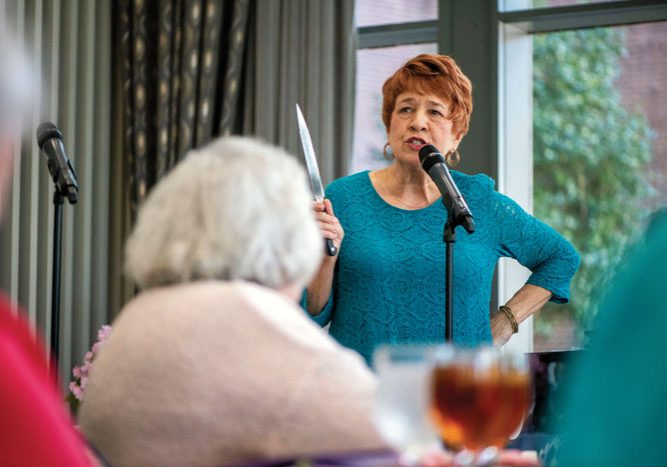 An afternoon of fashion fun benefits Community Care Clinic
Click here to view the photo gallery.
"Bonnets, Baskets and Brunch" was the theme of the 21st Annual Fashions for a Cause benefitting Community Care Clinic, held Wednesday in Catawba College's Crystal Lounge.
"The Rowan County Medical Society Alliance did such a phenomenal job," said Teen Aron, the clinic's director of communications and development. "There was definitely a spring feel in the air."
The format for the event — always a sold-out occasion — was a bit different this year. Instead of shopping with vendors, participants could purchase raffle tickets for dozens of silent auction items, with proceeds to benefit the clinic. The clinic also had a display in the lobby, with staff members distributing pedometers and healthy eating recipes.
Another fundraiser came in the shape of a tribute to the beloved "Hat Lady," Patsy Reynolds, who died in February. Guests could contribute to a memorial bench at the clinic which will be given in her name, and contributions are still being accepted, Aron said. "Patsy was definitely there in spirit."
Following an invocation by the Rev. Lara Musser Gritter of First Presbyterian Church, attendees were treated to Showtunes with Sass, presented by Matthew Michael Brown, pianist, and Mary Ann McCubbin and Jonathan Coarsey, vocalists.
In her remarks, Joyce Goodwin praised the event's planning committee, especially Mary Goodman, who was absent due to a recent injury.
Then it was time for the clever banter of emcee David Whisenant, who shared information about this season's hottest trends and colors, with Mayor Al Heggins among the models.
Local clothing stores showcasing the latest fashions included A Perfect Dress, Anna Craig Boutique, Anne's Boutique, Attractions on Main, Caniche, Cato, Lora Belle Baby, Stitchin' Post Gifts, 3 Jems, and Winsome Hanger.
During the event, Krista Woolly, the clinic's executive director, talked about what the clinic does and who they serve — Rowan County's underinsured or uninsured adults — with medical and dental care and prescription services. She relayed recent success stories with patients.
"We're most appreciative that the alliance put on this event for us," Woolly said. "It's been a great partnership over the years."