Community Care Clinic receives Salisbury Academy Bloom gift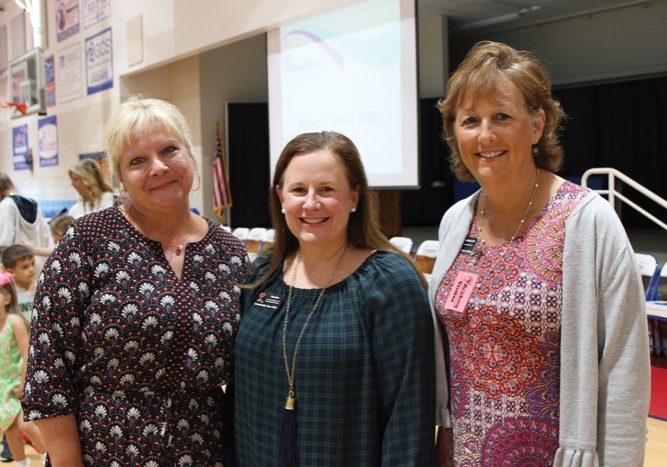 As the featured nonprofit for Salisbury Academy's Bloom in Wonder gala held March 30, the Community Care Clinic of Rowan County received $2,500 to be used without restriction toward its mission of providing primary medical and dental care as well as prescription medications to qualified underserved and uninsured adults in Rowan County.
The gift was presented at a Salisbury Academy chapel gathering with Director Krista Woolly and communications and development director Teen Aron representing the clinic.
"Access to health care is difficult for many people in Rowan County and this gift will go directly to services to improve the health of many people who live and work here," said Woolly.
Heather Coulter, director of curriculum for Salisbury Academy, presented the gift to the clinic.
"Salisbury Academy is honored to support a non-profit each year through our Bloom gala. We believe deeply in the Community Care Clinic's mission and the great passion and professionalism with which they deliver their mission to members of our community," said Coulter.
After sharing a reflection on hope — the virtue of the month that Salisbury Academy's school community is studying throughout the month of May — Woolly closed with a heartfelt thank you.
"We are very appreciative of Salisbury Academy and the annual Bloom fundraiser for supporting the clinic in this collaborative way," Woolly said.
"Teaching children at a young age to give back is so important for the community and for the individual." 
Article originally published at The Salisbury Post.