Community Care Clinic's open house shows off its remodeled digs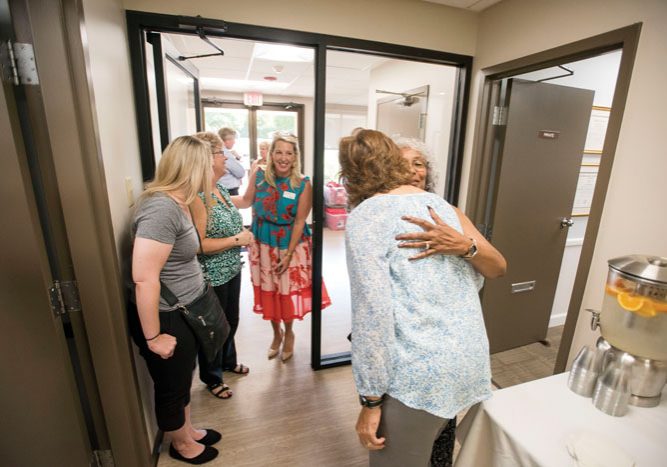 SALISBURY — For 90 days, things were a little topsy-turvy at the Community Care Clinic of Rowan.
Over those three months, the clinic underwent an $188,000 remodeling. It meant the kitchen was being used as a reception area and pharmacy. Patients waited in a narrow hallway before being called to one of the makeshift treatment rooms.
The staff members were doubling and tripling up.
Executive Director Krista Woolly, Medical Director Dr. Amy Wilson, and communications and development director Teen Aron all shared one office, for example.
Meanwhile, Dr. Robert Glassgow opened his Statesville Boulevard office for the clinic's dental patients on Wednesdays and Thursdays.
For a time, the only restroom at the clinic was a portable toilet outside.
But the important bottom line: The Community Care Clinic stayed open, never missing a day.
"Luke Fisher did it," Woolly said of the project's general contractor. "He was fabulous."
There were plenty of other heroes, including Glassgow and an anonymous donor who paid for the renovations and believes in the clinic's mission.
The Community Care Clinic serves qualified underserved and uninsured adults in Rowan County by providing primary medical and dental care, along with a pharmacy.
The construction project did not add a single square foot to the clinic, but the renovations provided new ceilings and floors throughout the building, located on the ground floor at 315-G Mocksville Ave.
The donor pushed for the installation of a security system. Woolly said the clinic never has had a problem with security since moving here in 2000, but she appreciates knowing the clinic now affords the extra protection for patients and staff.
In addition, the project repainted all the rooms. Fisher revamped the reception area to make it more spacious and efficient. Deborah Bailey oversees the reception area and monitors the security cameras.
LED lighting was added throughout the building, decreasing the clinic's energy use by 75 percent.
"Things look a lot brighter," Woolly said, nailing a general consensus among many of the visitors Monday.
The work occurred over a November-to-February period, but the Community Care Clinic staff and volunteers waited until Monday to have a three-hour open house for people to see the changes for themselves.
Beyond tours, Healthy Rowan and Novant Health Rowan Medical Center provided food and refreshments.
Jennifer West, program manager for Healthy Rowan, offered chair yoga sessions in the Dr. Bobby and Betty Lomax Dental Lobby. And visitors left the open house with Community Care Clinic tote bags and water bottles.
Woolly said Fisher approached the project in phases so the clinic could stay open, and that was important.
"We just didn't feel like we could close, and we didn't want to close," she said.
Staying at the same location and not moving temporarily to another place (other than Glassgow's office) was important, too. A city bus stop is right outside the clinic. Plus, a lot of clients walk here, Woolly noted.
She is pleased with the flow among offices and the clinic's four treatment rooms.
"It didn't end up being so awful," Woolly said, looking back at the construction period. "You really felt a sense of accomplishment when you were all through it."
Debbie Hill serves as dental coordinator, besides her duties as a dental assistant.
Dr. Mitch Siegel, who volunteers as a dentist all day Wednesday and half a day Thursday, was on hand for the open house, and he delighted in showing visitors the treatment rooms and lab area, which includes an orthopantomograph — essentially a CT scanner for the mouth.
"This is one of dentistry's greatest contributions," Siegel said.
According to information on the CCC website, the dental clinic provides examinations, X-rays, extractions, fillings and deep cleanings for enrolled patients.
In a typical month, the clinic offers eight to 10 days and four evenings for dental visits and four to six days of dental hygiene services.
The medical staff provides care to adults with basic needs such as diabetes management, high blood pressure, COPD and asthma, according to the website.
Enrolled patients are encouraged to make appointments before using the hospital's emergency department. In a typical month, there are 10 to 12 days of medical clinics and two evening clinics.
The Community Care Clinic employs a licensed pharmacist who holds an advanced certification as a pharmacy provider (CPP). Weekly, she sees patients under the supervision of the medical director to discuss medications, diet and lifestyle.
Article originally published at The Salisbury Post