Community Thanks honors volunteers, shines light on clinic's hepatitis C efforts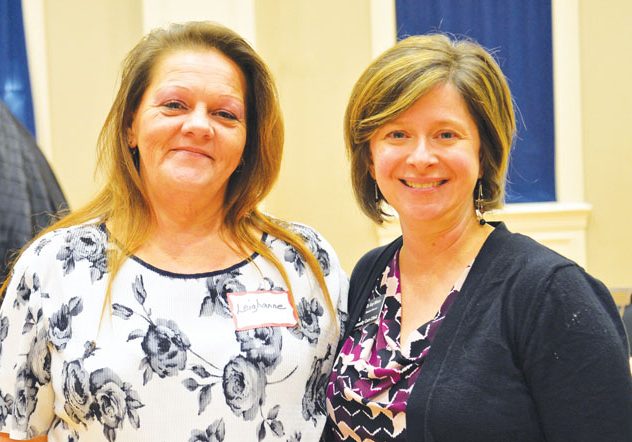 By Teen Aron
SALISBURY — The Community Care Clinic of Rowan County hosted the seventh annual Community Thanks program Monday at First Presbyterian Church.
The program thanks donors, volunteers and community partners for their support, recognizes the work of the clinic during the previous year and awards the Volunteer of the Year and Silent Angel awards.
This year's Community Thanks was the largest to date with more than 180 supporters attending.
Krista Woolly, executive director of the Community Care Clinic, provided an overview of the clinic, which provides medical and dental care and prescription medications to qualified and underserved adults in Rowan County.
"Tonight we celebrate an organization that remains a shining beacon of health and hope," Woolly said. "Because of each of you, the Community Care Clinic is able to provide compassionate care for all who enter our doors, and we say a big thank you for that."
Woolly highlighted the clinic's recent renovations that provided increased security, a central front desk and LED lighting.
"Our patients are thrilled and appreciate the bright, open space," she said. "Our providers and staff are proud to call the clinic home."
Dr. Amy Wilson, medical director for the clinic, described the last year as collaborative.
"We have worked hard not only to continue to provide the best care possible but to find new avenues to improve the overall health of our community," Wilson said.
She thanked Dr. Kobe Wilmot, a Novant Health Medical Center Rowan cardiologist, and Dr. John Bream, the hospital's emergency department director, for volunteering at the clinic.
Wilson announced a new teleneurology initiative with the Association of Free Clinics that provides neurology consultations for clinic patients.
Wilson also spoke about the growing opioid crisis and the startling number of cases of Hepatitis C that come with it.
In response, Wilson is participating in a program called CHAMP— Carolina Hepatitis Academic Mentorship Program — a joint effort between Duke and the University of North Carolina that teaches providers how to treat Hepatitis C.
Historically, Hepatitis C has been difficult to treat, with only a 16% cure rate. Untreated, it leads to cirrhosis and liver failure. With new medications, physicians are able to treat and achieve a 98% cure rate.
By partnering with the Rowan County Health Department, the Community Care Clinic is now able to screen, vaccinate and treat Hepatitis C.
The clinic has started treatment on 13 patients, and five have been cured.
"It's amazing to not only treat Hepatitis C but to cure patients of this life-altering disease," Wilson said.
Community Care Clinic patient Leighanne Smith shared her story. Smith was diagnosed as an inactive carrier of Hepatitis C in June 2009.
Smith's husband died in 2010 after suffering from Hepatitis C for several years. Smith was hospitalized for cellulitis and neuropathy in her feet and could barely walk. After her hospital stay, she came to the Community Care Clinic as a patient.
"Dr. David Smith of the Community Care Clinic stepped up and took amazing care of me," Smith said. "I was able to walk and no longer suffered from bouts of cellulitis."
After David Smith's retirement, Leighanne Smith began seeing Wilson at the clinic. They began discussing her case and her feelings of tiredness and sluggishness.
Wilson suggested a full panel of blood work that showed Smith's Hepatitis C was active.
"It was like a smack in the face," Smith said. "All my fears and bad memories of what my husband faced came rushing back to me. Dr. Wilson laid my fears to rest when she told me about a new program to treat Hepatitis C. I couldn't believe it. There was a cure and a real chance to beat it."
Through a collaboration with the Rowan County Health Department, Smith was screened and vaccinated and took eight weeks of medication. Wilson had Smith's blood work rechecked, and Her hepatitis C was cured.
"I owe the Community Care Clinic my life because without them I wouldn't be able to walk or take care of myself," Smith said. "I now hold a full-time job that requires me to walk, sweep, mop and lift while on my feet for seven hours a day.
"Without the clinic, I wouldn't be able to be a mother or grandmother. I am now living a very full, active and happy life. They gave me my life back in so many ways, and I will forever be indebted."
The program continued with dental coordinator Debbie Hill presenting the Mike Fuller Volunteer of the Year award to Dr. Susan Muth. Fuller is a board member and volunteer pharmacist for the clinic.
Muth is a general dentist and began volunteering in the dental clinic when she moved to Salisbury in 2012.
"Dr. Muth has a love of dentistry and a special gift for helping others," Hill said. "Our patients love her, we love her and we are so blessed to have her as a part of our Community Care Clinic family."
Woolly recognized Dr. Bob Glassgow as the recipient of the 2019 Fred and Alice Stanback Silent Angel award. The award is named for the Stanbacks to recognize their service to others and helping meet the need of the most vulnerable in the community.
During renovation work at the clinic, Glassgow opened his periodontal practice to the Community Care Clinic's dental department so the clinic could continue to provide dental services. Glassgow has been a volunteer dentist at the clinic for more than 20 years.
"We could not be more appreciative of Dr. Glassgow's big heart for the clinic and for this community," Woolly said.
Luke Fisher of Carrol Fisher Construction Co. was recognized as a second Silent Angel Award recipient. Fisher helped the staff find creative ways to work out of half of the facility while renovating the other half, realizing that the clinic needed to remain open for medical and pharmacy services.
Fisher showed the staff the benefits of switching to LED lighting and installing a comprehensive security system.
"Luke was instrumental in the renovations," Woolly said. "He was always available to take our calls about even the smallest of things. He helped us problem-solve and offered solutions when the renovations presented challenges."
In addition, Woolly thanked Jennifer Flynn, co-chairwoman of the board of directors, for her work at the clinic over the past seven years.
"Jennifer is an engaged leader who has worked diligently to position the clinic well for the future," Woolly said. "She is committed to the mission of the clinic and the needs of our patients. We will miss her so very much."
For more information on the Community Care Clinic, visit www.communitycareclinicofrowan.org.
Teen Aron is communications and development director for the Community Care Clinic of Rowan Inc.