Community Care Clinic's services take stress off of emergency room during COVID-19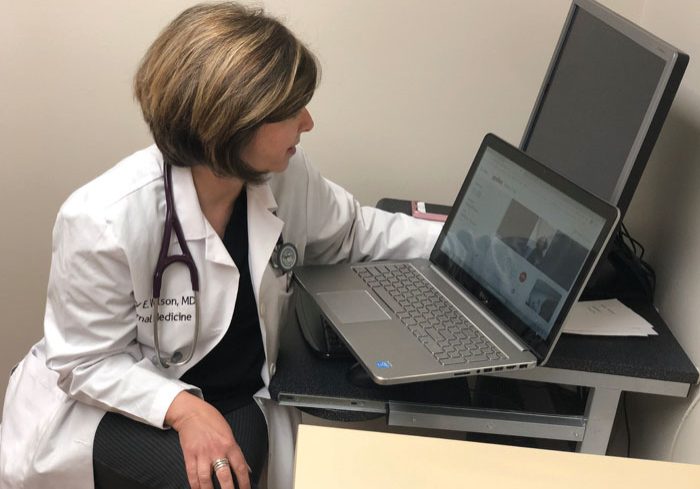 SALISBURY – The Community Care Clinic of Rowan County helps keep people who have no other means of getting treatment from having to resort to an emergency room visit, and it's been hard at work during the COVID-19 outbreak.
Clinic Executive Director Krista Woolly estimates 250 visits to the emergency room visits have been prevented since the beginning of the COVID-19 outbreak because of telemedicine visits and medication distributed by the clinic.
"You could almost count each visit we've done as a potential emergency room visit because, even if a person said 'well I'll just try to get into a regular doctor and pay on my credit card,' they can't because there's no regular doctors open either," Woolly said.
And the clinic's work to prevent people from resorting to the emergency room takes pressure off of hospitals already strained by the influx of COVID-19 patients, some of whom require intensive care. Woolly said a number of the clinic patients have conditions like hypertension, diabetes and asthma that increase their risk of becoming seriously ill as a result of COVID-19 infection.
Most of the drugs the clinic provides to its patients need to be taken continually. Life-saving drugs like insulin and medication to control blood pressure are among those the clinic provides for people who are uninsured. The clinic distributed 22,000 prescriptions in 2019 at a value of $6.2 million.
Woolly said the clinic can provide $9.50 worth of care for each dollar donated, a figure it creates by determining the price patients would have to pay for care out of pocket for the same care. The clinic's operating budget is $725,000.
There could be two issues for clinics like the Community Care Clinic of Rowan County going forward. One is the loss of the spring fundraising season that charitable organizations rely on. Woolly expressed concern whether all the canceled fundraisers that would normally happen this time of year will be as successful if they are rescheduled for the fall.
Randy Jordan, CEO of the N.C. Association of Free and Charitable Clinics, said many of the clinics are supported by other charitable organizations that provide free medications and supplies, but they also depend heavily on clinics.
"COVID-19, stay-at-home orders and social distancing are causing the whole spring fundraising season for our clinics which is full of galas, and golf tournaments, and dinners and everything, are being cancelled," Jordan said.
Another issue is climbing unemployment due to the economic fallout caused by COVID-19. States, including North Carolina, have ordered certain businesses to close entirely or cut back on certain parts of their operations, like in-person dining at restaurants. As more people lose their jobs, they will also lose their insurance and create a greater need for clinics like CCCRC, which could already be facing setbacks.
"That's another place where the financial pressure is beginning to mount for clinics like Krista's," Jordan said.
The association is trying to fundraise and collect supplies for clinics. It has received grant funding from the Kate B. Reynolds Charitable Trust which has allowed it to distribute more than $200,000 to clinics that remain open during the outbreak.
Jordan said patient flow has slowed down at private practices as well, creating issues generating funding through insurance.
"We're not funded through insurance though, so the revenue constraint for us is through the donation category," Jordan said.
Woolly writes grants to help keep CCCRC funded as well. Donations can be made via the clinic's website at communitycareofrowan.org.
This article was originally published at The Salisbury Post.